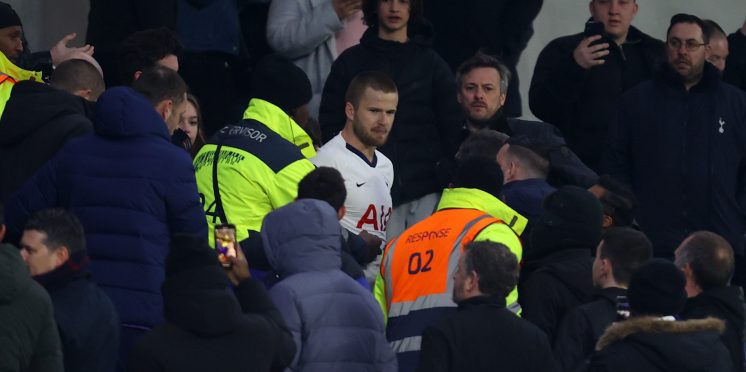 When athletes and coaches clash with fans in sport
Tottenham star Eric Dier shocked supporters on Wednesday evening when he jumped into the stands to confront a fan following Spurs' FA Cup exit to Norwich. Some reports have claimed that the 26-year-old lept into the crowd after one fan racially abused Dier's teammate Gedson Fernandes. Nothing has been confirmed as of yet, but this is not the first time that athletes or coaches have clashed with supporters in recent history. We've taken a look back at some other infamous incidents.
Footballers clashing in front of tv cameras is a favourite theme of you tube clips that you can find with a live football stream. This site has info for every upcoming match and where to watch a stream via subscription or free on Sky Sports, BBC, BT Sport. The site covers every domestic league so your Spurs needs are covered.
Eric Cantona fly-kicks Crystal Palace fan
Where else to start, right? Manchester United legend Eric Cantona was known to be a bit of a hot-head. One night at Selhurst Park, Cantona didn't respond well to taunts from the nearby Crystal Palace fans after he had been sent off. He launched himself into the stands, fly-kicked a fan in the chest and continued to throw punches at the individual before stewards pulled him away. Charged with assault, Cantona served a nine-month suspension from football for the attack.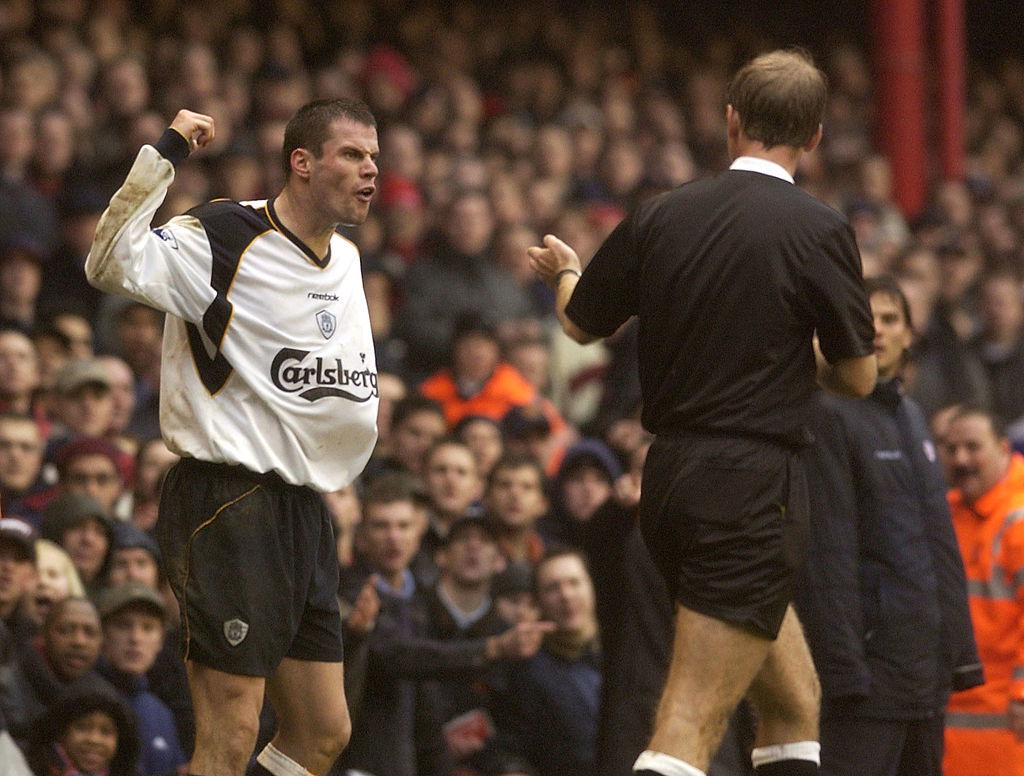 Jamie Carragher throws coin at Arsenal fans
In a heated game at Highbury against Arsenal, Jamie Carragher got up close and personal with the Gunners fans. After Dennis Bergkamp was sent off by referee Mike Riley, Carragher was pelted with coins by the nearby Arsenal fans. The former England defender retaliated, throwing one back into the crowd. Spotted by the officials, Mike Riley subsequently sent Carragher off, making the match 10 against 10.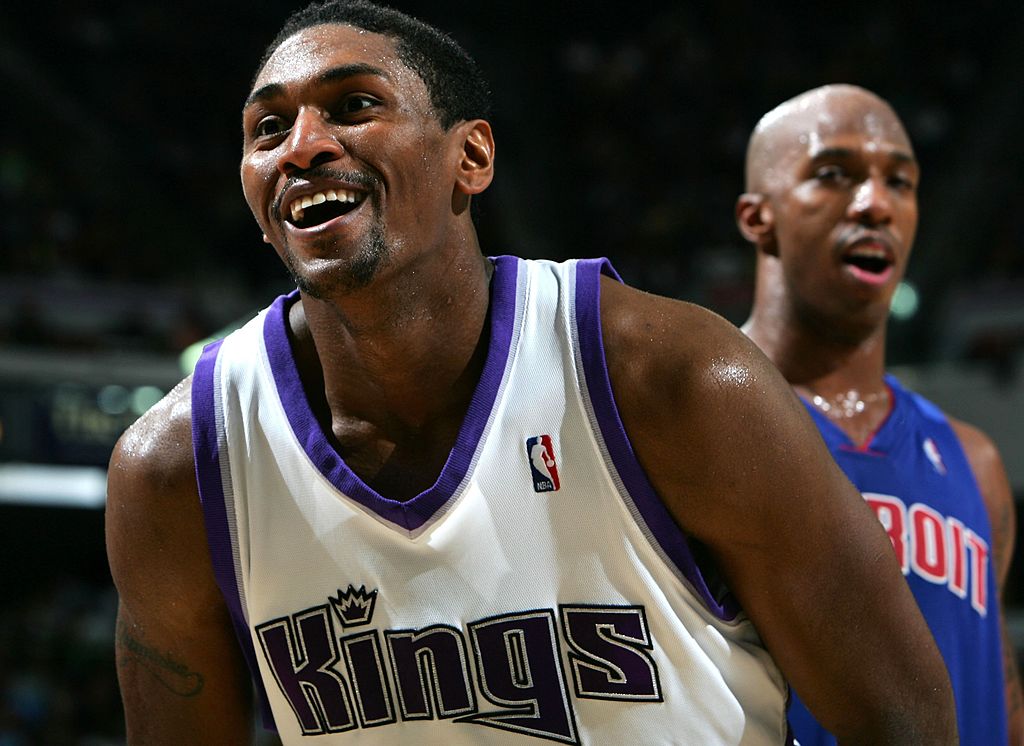 Ron Artest takes on the Pistons fans
Ron Artest, then of the Indiana Pacers, is most known for an infamous night against the Detroit Pistons on November 19th, 2004. After getting into a shoving match with the Pistons' Ben Wallace, Artest was hit by a cup from the crowd, and unfortunately for the thrower, Artest spotted who committed the crime. He broke through players and officials, jumped into the crowd along with team-mate Stephen Jackson and attacked the fans in question, launching a series of punches, throwing beers, food and even a chair. Reprimanded by the NBA, Artest was handed the longest suspension in league history – 73 games plus the playoffs, while Jackson was suspended for 30 games.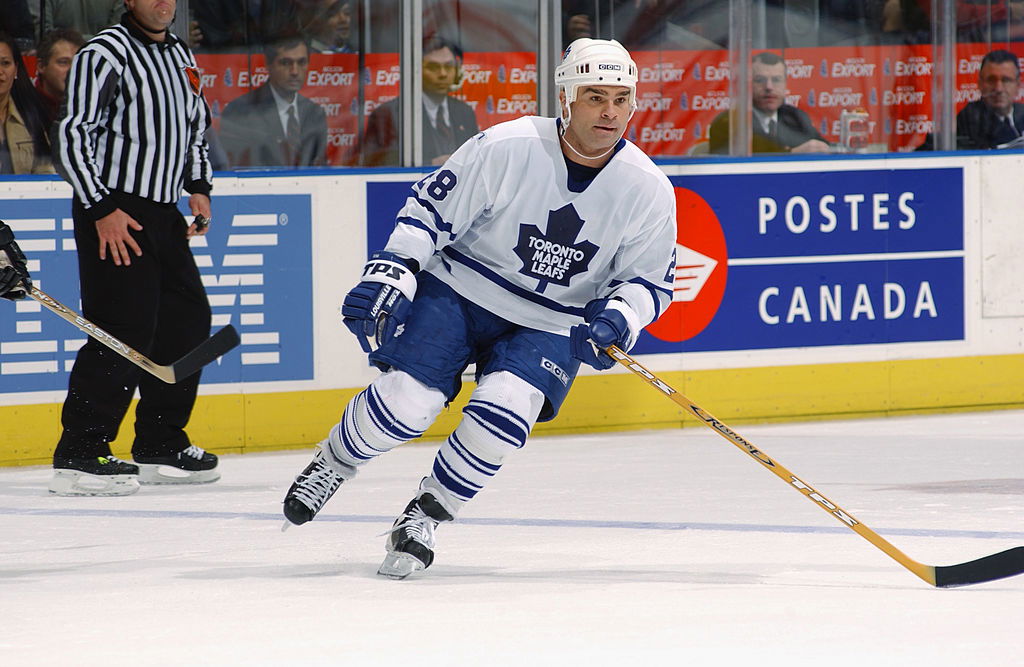 Tie Domi splashes a Flyers fan
Tie Domi of the Toronto Maple Leafs was sent to the penalty box in a game against the Philadelphia Flyers on March 29th, 2001. Sat alone in the box, Domi was taunted by one loud-mouthed Flyers fan behind him with only glass separating the two men. After taking more abuse than he could handle, Domi turned around and squirted his water bottle all over the fan. This caused another fan to react, launching himself through the glass panel and the two then got into a fistfight. The fan was ejected and Domi was fined $1,000 for his role in proceedings.
Terry O'Reilly leads his Bruins into the crowd
In 1979, the Boston Bruins had one of the hardest, toughest men in all of the NHL in Terry O'Reilly. In a match against the New York Rangers at Madison Square Garden, during an altercation near the side of the rink, a fan hit Bruins star Stan Jonathan and stole his hockey stick. Captain O'Reilly wasn't going to stand for this. He jumped over the glass panels and into the crowd, along with team-mates Mike Milbury and Peter McNab, and launched an attack on any Rangers fans who stood in their way. O'Reilly was suspended for eight games by league authorities, with Milbury and McNab getting six-game bans and the trio were all handed $500 fines.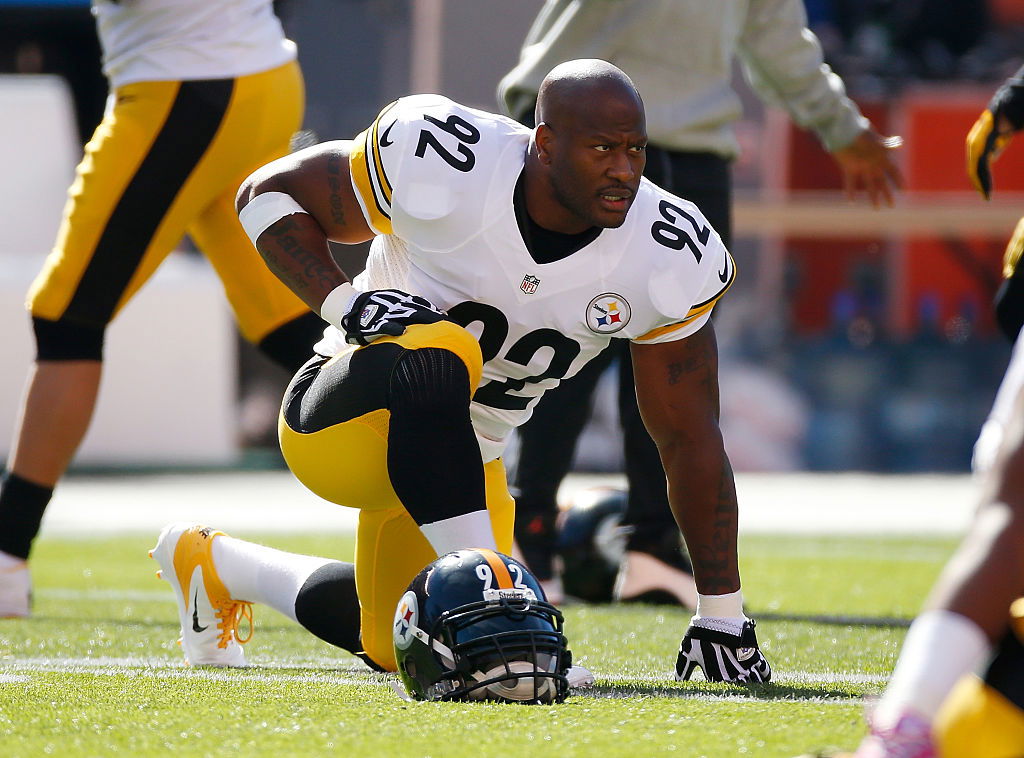 James Harrison takes out a Browns fan
The Pittsburgh Steelers have had the Cleveland Browns' number for more than a decade in this AFC North rivarly. On December 24th, 2005, it was no different as the Steelers were cruising with a 41-0 lead in the fourth quarter over the hapless Browns. One drunken fan had had enough, running onto the field and into the path of legendary linebacker James Harrison. The star defender picked up the fan, threw him to the ground and pinned him down until stewards and police were able to escort him off the field. The NFL didn't punish Harrison for his actions.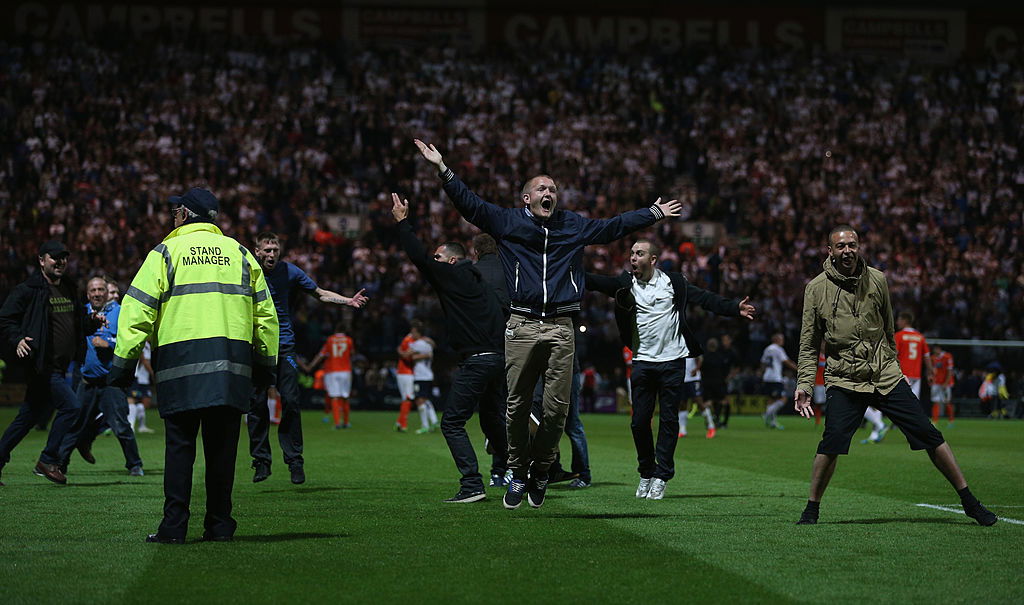 Kobi Mossa doesn't stand for pitch invaders
Pitch invaders are a lesser-spotted sight at football grounds these days given the amount of policing and stewarding, but you still get the occasional streaker or invader. In May 2007, one pitch invader endured a hit he'd never forget. During the Tel Aviv derby between Hapoel and Maccabi in Israel, a fan ran onto the pitch, evading stewards everywhere. Up stepped Kobi Mossa. With the fan coming in his direction, he decided that he wasn't going to get past him. He launched a flying knee into the face of the invader, who dropped to the floor before being escorted off. Don't mess with Kobi Mossa!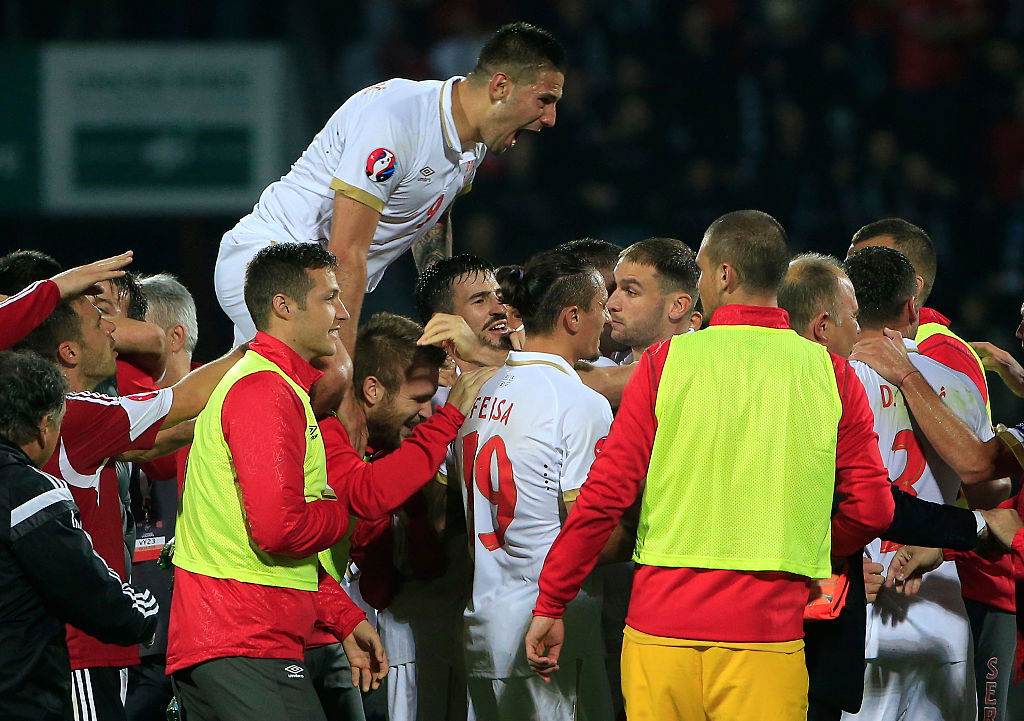 The Battle of Belgrade
During the UEFA Euro 2016 qualifying match between Serbia and Albania in Belgrade, a drone with an Albanian flag suspended from it hovered over the pitch. Serbia's Stefan Mitrovic pulled the flag down which led to several Albanian players setting upon him to get the flag back. Bekim Balaj took the flag but he was then being attacked by a Serbian fan, who had ran onto the pitch with a plastic stool. This resulted in a mass brawl involving players, staff and fans.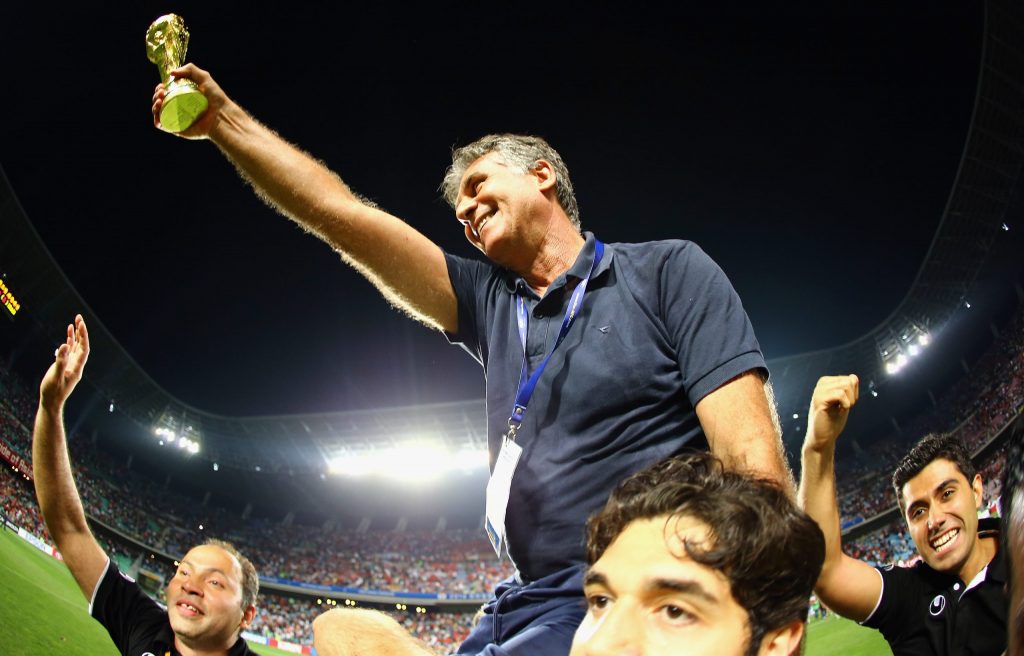 Carlos Queiroz pelted by South Koren fans
After Iran defeated South Korea in a World Cup Qualifier in 2013, their manager, Carlos Queiroz, went to celebrate with his fans but as he approached them, he was pelted with bottles by angry Korean supporters.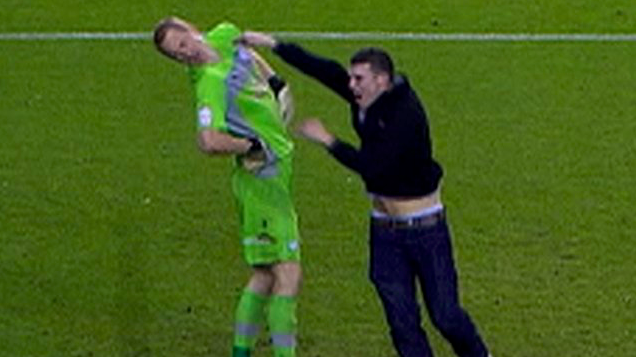 Chris Kirkland blindsided by Leeds fan
During the Championship game between Sheffield Wednesday and Leeds United at Hillsborough back in 2012, Wednesday's Chris Kirkland was blindsided by Leeds fan Aaron Cawley, who struck Kirkland in the face. Cawley was arrested and pleaded guilty to assault. He was sentenced to 16 weeks in jail.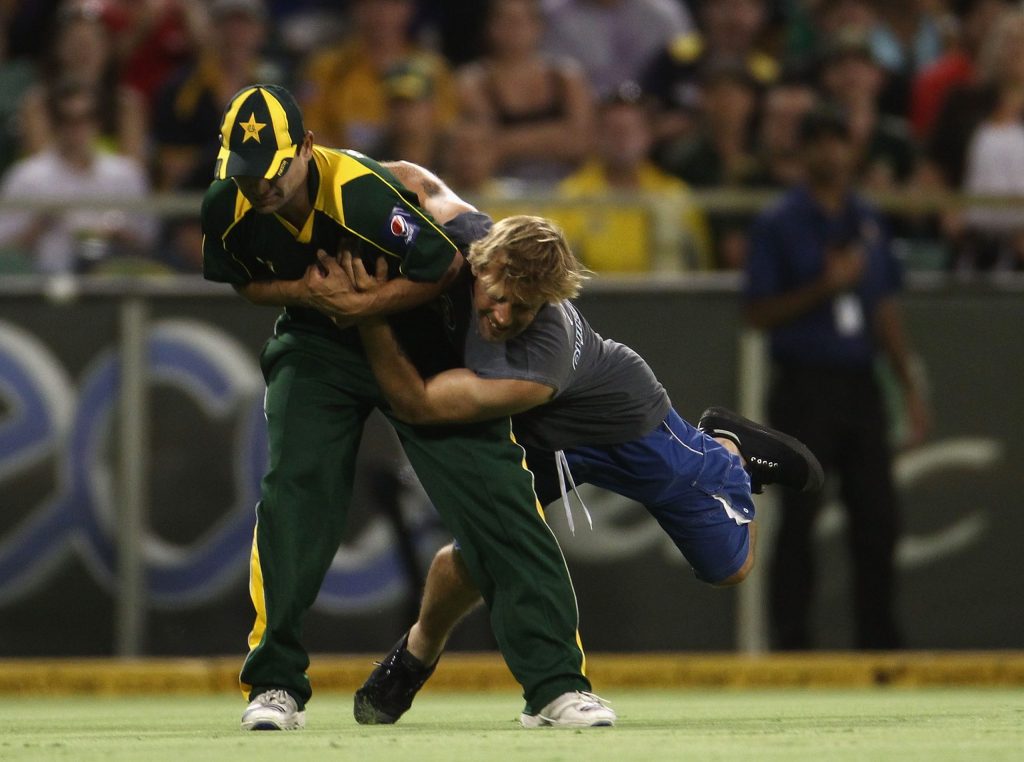 Drunk Aussie tackles Khalid Latif
Near the end of a One-Day International between Australia and Pakistan in Perth, an Australian fan, David James Fraser, ran onto the field and tackled Pakistan's Khalid Latif before he was detained by security. Fraser pleaded guilty to trespassing and assault, was fined $9000, and banned from the WACA for life.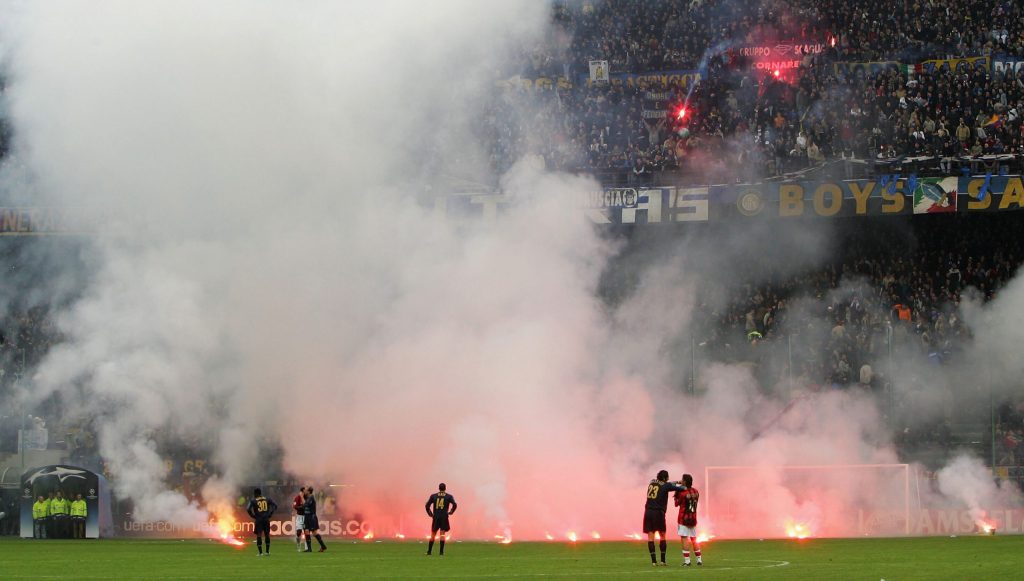 Dida struck by a flare
In the 74th minute of a UEFA Champions League match between Inter and AC Milan, goalkeeper Dida was struck by a flare thrown from the Inter fans who were angry that Esteban Cambiasso's equaliser had been disallowed. Dida suffered minor burns and was unable to continue the match. After a 30-minute delay, the flares were cleared from the pitch and the match was restarted. However, more debris-throwing from the Inter fans forced the referee to abandon the game. AC Milan's 1–0 lead was allowed to stand and they progressed into the next round.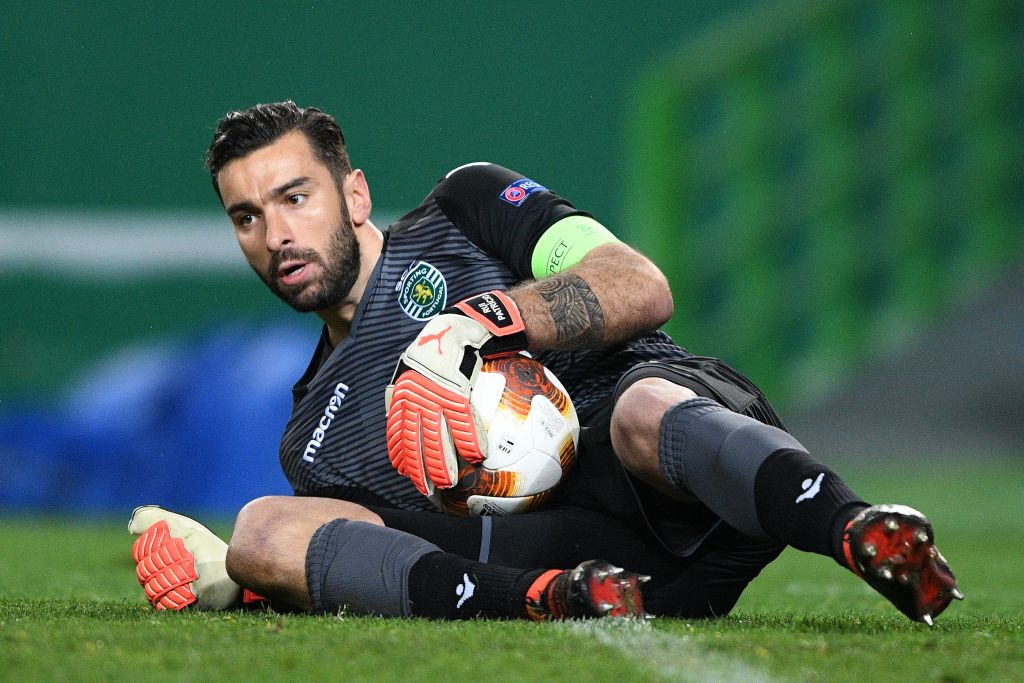 Fans attack Sporting Lisbon players
A group of around 50 fans invaded the Sporting Lisbon training ground back in 2018, attacking players and members of staff. Players like William Carvalho, Bas Dost and Rui Patricio left the club as a result.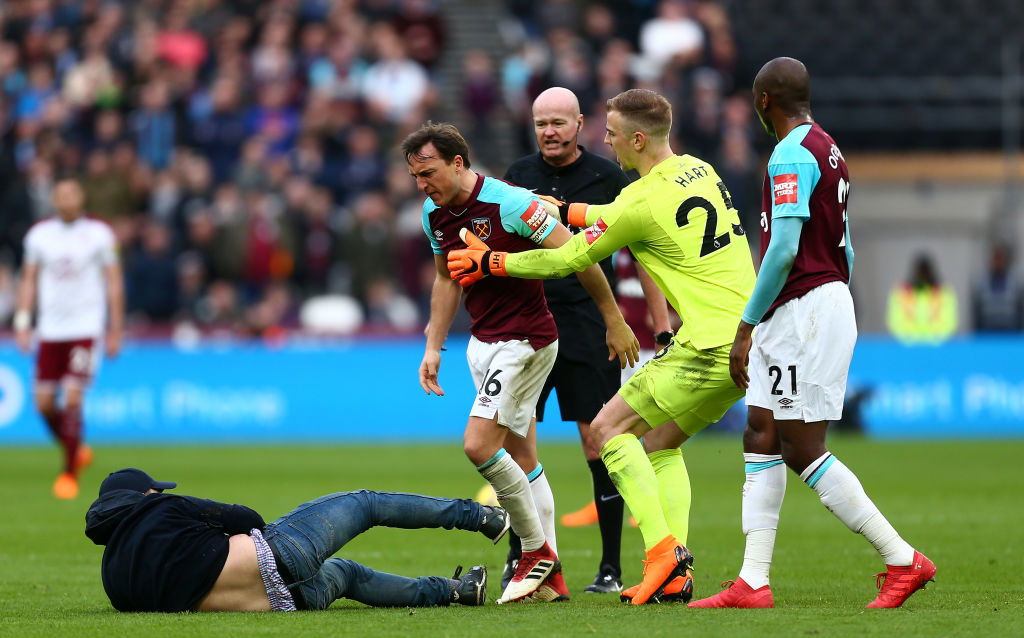 West Ham fan confronts Noble
Mark Noble clashed with one West Ham supporter who decided to take it upon himself and run onto the pitch in 2018. In a day that marred West Ham, supporters also threw coins and objects in the direction of the directors' box in an unsavoury protest.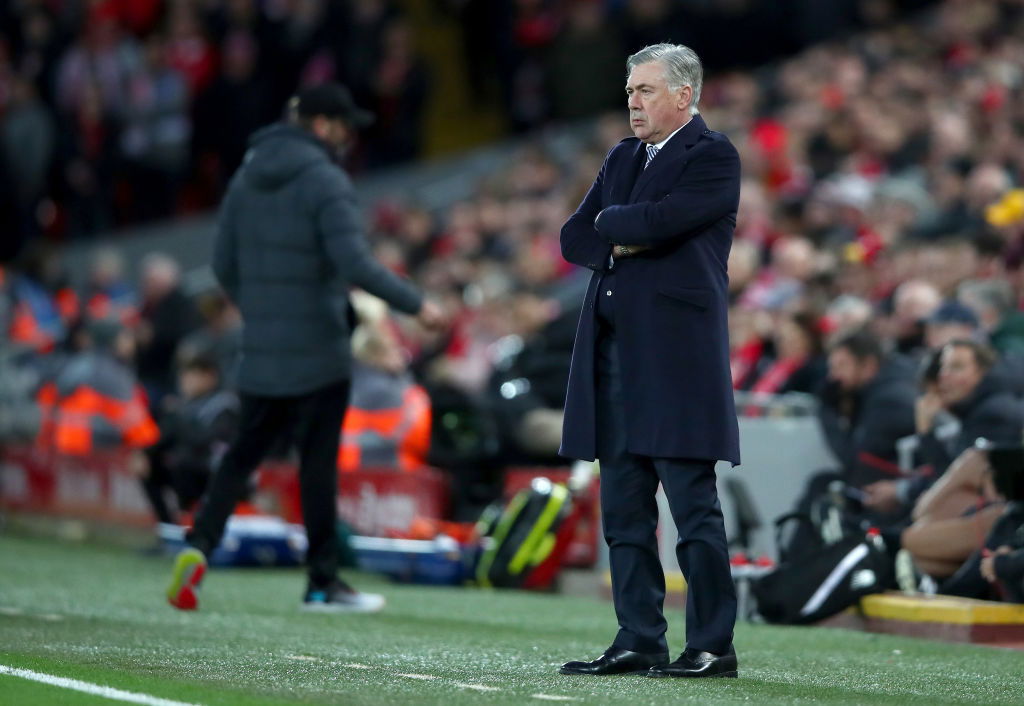 Everton fans invade training ground
Everton fans reportedly invaded the club's training ground following their FA Cup defeat to Liverpool earlier this year. A young Reds team eased past Carlo Ancelotti's side in the Merseyside Derby, leaving a small group of supporters furious. Angry with the performance, fans made their way to Finch Farm demanding answers!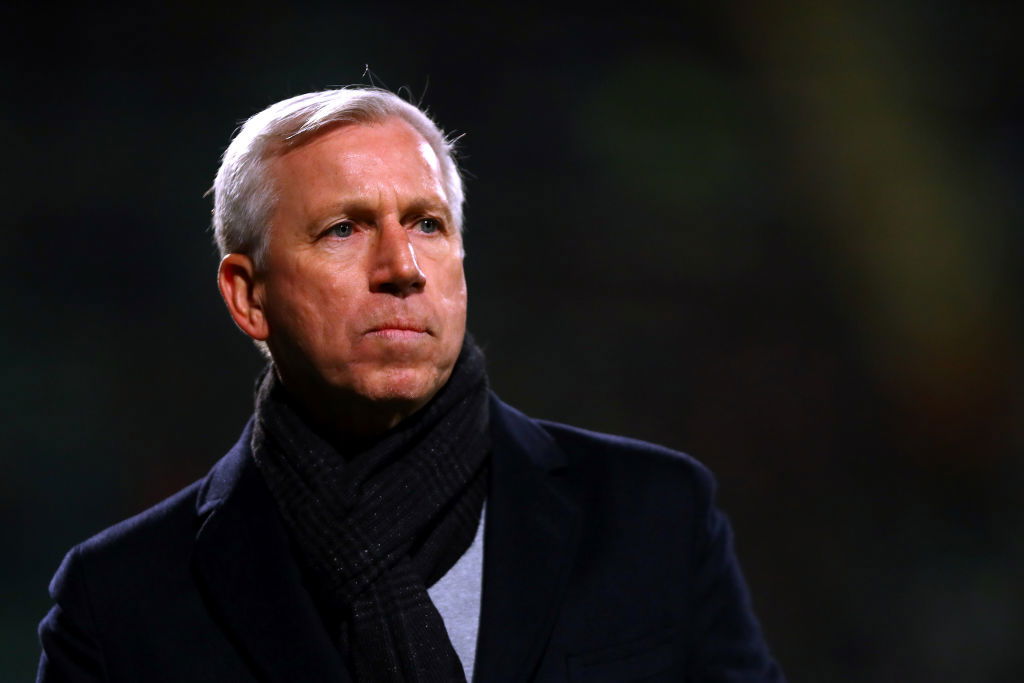 Pardew confronted by Den Haag fans
Alan Pardew's decision to take over at Dutch side Den Haag late last year came as a surprise, and it's proved to be hard going for the 58-year-old. Pardew and Den Haag were without a win in six in February, so a small group of supporters decided to storm the club's training session to express their worry to both the players and manager.
---