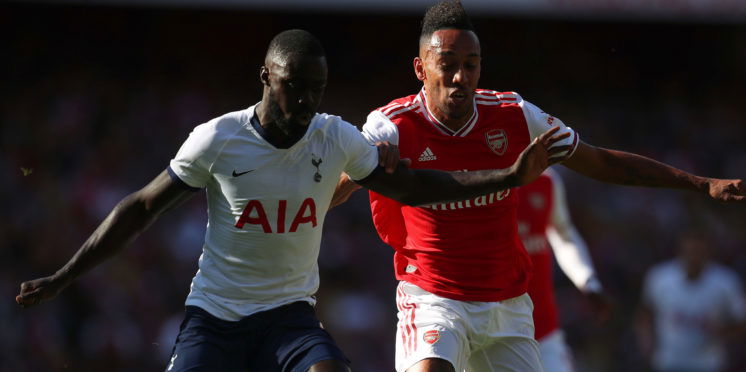 "The worst right-back performance I have seen" – These Spurs fans aren't happy with Davinson Sanchez
"That's the worst RB performance I have seen" – A lot of Tottenham Hotspur fans are distraught at Davinson Sanchez's display in the North London derby.
The 23-year-old was asked to play at right-back in one of Spurs' most significant games of the season and the Colombian international struggled all afternoon.
He could not deal with the pace of Pierre-Emerick Aubameyang and often found himself drifting inside to leave his man with a lot of space – which Arsenal consistently exploited.
The 23-year-old was pretty much hung out to dry by Mauricio Pochettino, and the Gunners targeted the clearly uncomfortable defender.
His manager praised him in the press conference after the game, but it feels like he was just defending his player.
These Spurs fans thought Sanchez was awful all game.
See the best of the reaction below.
Asked Poch about playing Davinson Sanchez on the right: "The performance was great. I think, Hugo, him, Harry Winks and Christian Eriksen were on the top of the performance. Then the rest of the team were fantastic too." https://t.co/ncJJxWksDH

— Alasdair Gold (@AlasdairGold) September 1, 2019
Sanchez was shambolic !!! Poch protecting the board again for not getting a RB in … Terrible choices in that position for us this season

— Cos1882 (@CNK82) September 1, 2019
Sanchez was on top of his game?!!? He wasn't. In four games he had been 4 out of 10 every time at the very best.

— LWOS Tottenham Hotspur (@THFCFootballCO) September 1, 2019
IMO that's the worst RB performance I've ever seen !!

— Stephen Price (@PVsupercars) September 1, 2019
Many Spurs fans believe that Sanchez was terrible, and this was his worst performance of the season.
If Toby has played RB for Belgium why wasn't he today? Despite what Poch says, Davinson will know he struggled massively today. That can't do his development any good whatsoever

— Jonny Ireland (@irelandofjonny) September 1, 2019
What game you watching Poch?

— Harry C (@HazSpur92) September 1, 2019
He's surely joking? Shocking performance from him doesn't matter that he was out of position.

— Chris Brown (@ChrisBrown_180) September 1, 2019
Poch needs to get an appointment here urgently ! pic.twitter.com/l2ARsi89VV

— graham bruce (@brucey1950) September 1, 2019
Why does he rate Sanchez so highly he was woeful can't wait for Foyth to be back

— Luke English (@englishluke22) September 1, 2019
Other Spurs fans believe that Pochettino is mad for defending Sanchez despite clearly playing poorly.
I get he's protecting his player but how many times do I need to see Sanchez getting spun on a one two? It's like he's not learning at all. 42m had our pants pulled down here pic.twitter.com/mF68dbD78r

— Bombay (@GordoneBombay) September 1, 2019
It was professional of him to not throw him under the bus in public. But he was awful. But it's not his fault. No one seem to realize his aerial judgement is poor. He has no ball skills at all. But he plays his heart out and he's good at chasing and blocking

— Ryan Squeak (@SqueakRyan) September 1, 2019
Finally, some Tottenham supporters seem to have lost faith in Sanchez.
---